Rug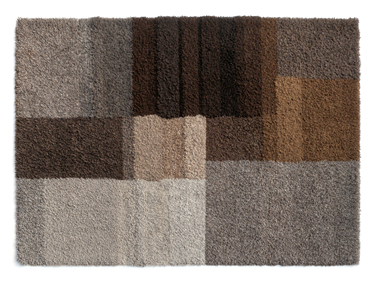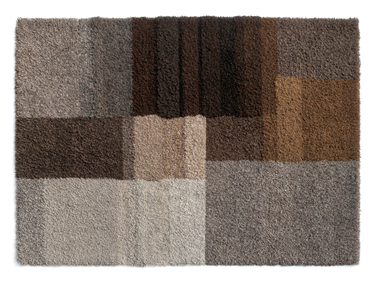 Fellow Spinners,
I'm reaching out to you with a request for support and help.
My 6'x7' locker hooked rug was stolen from my apartment building on July 24, 2017. This rug was very special to me. I spun all the yarn—mostly on a drop spindle—and it took three years of daily work to complete. I am devastated that it is gone and am trying to find a way to move forward from this loss. The story of my rug is below:
I'm from California and about 12 years ago I moved to Australia to live with my then-boyfriend. We took many trips to Tarndwarncoort, the Australian homestead where the Dennis family developed and maintains the country's first breed of sheep (the Polwarth). We were there for the shearing and as I admired all the beautiful naturally colored wool, Wendy Dennis would grab a handful and toss it to me saying: you should have this.
When my boyfriend and I broke up, I returned to California with several bags of wool in the grease. I didn't have enough of any one shade to make a sweater or even a hat so I decided to put them all together into a large rug for the living room of my new San Francisco apartment. I treated each handful of wool differently—some were combed, some carded, and some fulled. I created 2, 3, and 4 ply yarns and spun some thick and some thin. I even threw in a cabled yarn or two. In the end I grouped all the colors together into large blocks which were meant to look like an aerial view of the California central valley, symbolic of my return to California. Since each yarn employed a different technique you were able to pick out the individual sheep among the flock—a theme I was exploring at the time: how to maintain your individuality while being part of something bigger.
Making that rug helped get me through a very difficult period and I was really proud of the finished piece. To have it stolen is heartbreaking. The empty space on my living room floor is painful to look at and I know I need to put
down another rug but I don't have it in me to start over from scratch, so I've come up with a new project which, in light of everything, feels right.
I'm asking fellow handspinners for donations of skeins of naturally colored handspun wool. I will compile the submissions into a new design and make a rug that will tell a different story.
Here's what I am looking for:
•natural colors only please—no white
•any thickness, number of plies
•any amount
•sheep wool preferable but I'll accept other wools
I am anxious to get started on designing and working on this project so am hoping to get donations by Nov. 1, 2017 (please let me know if you plan to submit after Nov 1). Please include your name which I will embroider onto the binding tape. I will post progress photos on my web page if you'd like to follow along (http://shotwellpapermill.com/rug/). And I would be grateful if you would forward this to anyone who might be interested in contributing.
Thank you for reading this request, and thanks in advance for any donation that you are willing to contribute,
Pam DeLuco
Shotwell Paper Mill
305 Shotwell St.
San Francisco, CA 94110
---